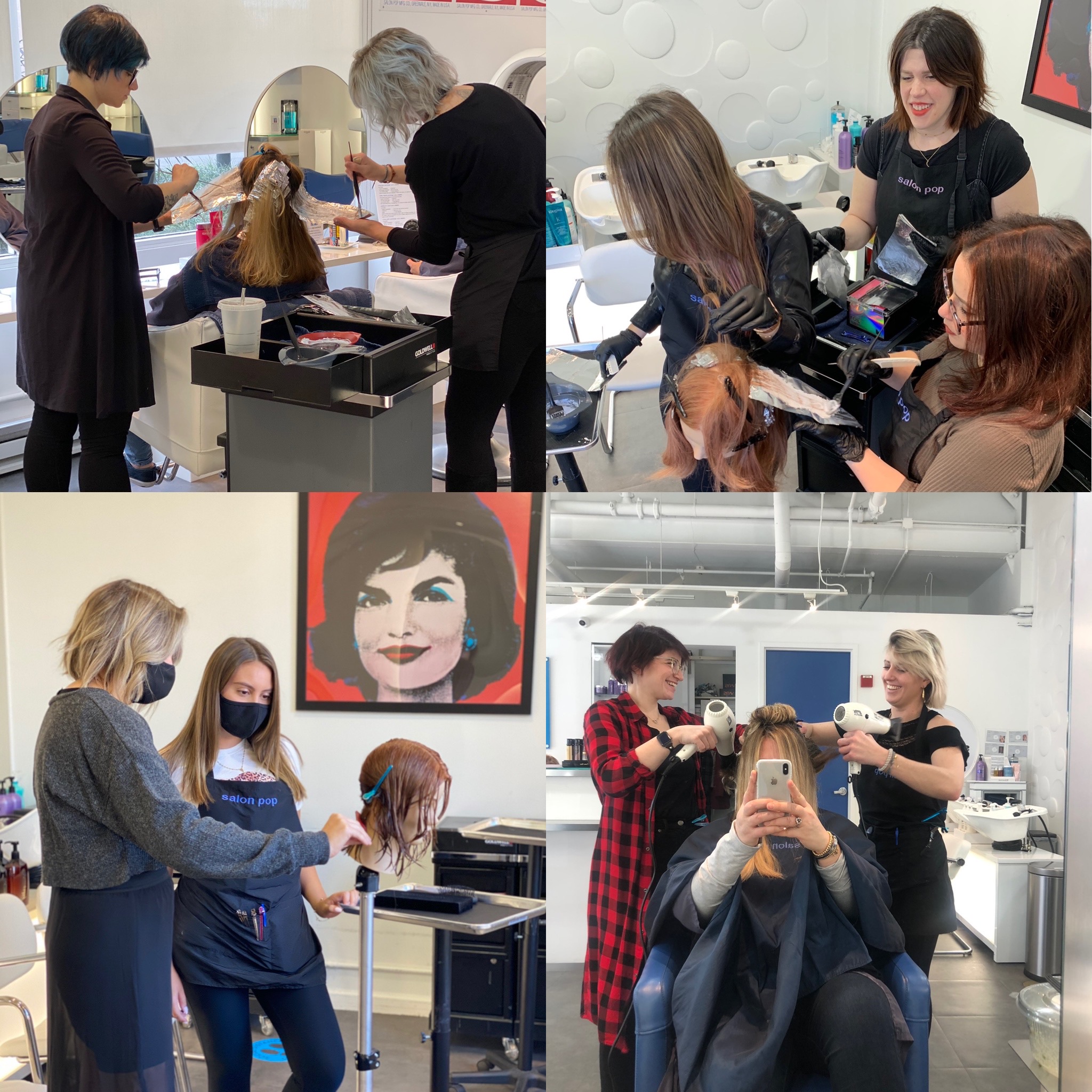 do you dream of being a busy stylist behind the chair? do you feel stuck in your current position and you worry you may never make it as a stylist on the floor? do you wish someone could show you how to build your dream clientele?
then this may be the perfect opportunity for you!
at Salon Pop, our 40-week training program is ideal for stylists who wish they could get a master's degree in the hairdressing industry. we acknowledge the need for training and are proud to offer on-the-job education as a paid internship. the education received during this time is valued at over $25,000, all while earning a paycheck and invaluable skills for your career.
we are proud of our "associate training program" and have helped many stylists to lead a successful career behind the chair. will you be next in line?
if you're wondering if there's a catch… there is! this program is not for the weak, unmotivated, or entitled! it takes hard work and dedication all while working a full-time schedule and dedicating additional time to assignments, training, and learning. we want the best candidates for this program, so we start out all applicants to the associate program as salon assistants to give you an opportunity to adapt to our culture. this allows the education team to figure out the right educator to best suit the associate's learning needs and for the associate to make sure they're up for the challenge.
still interested?
we are looking for passionate new talent to grow with our team… if you think you have what it takes keep reading below and submit an application to our team!
the right candidate will have these qualities…
kindness
professionalism
motivated
drama free
willing to put in the hours & work it takes to be successful
positive attitude
have extraordinary customer service skills
a team player
punctual & reliable
avoids gossip
fashionable & put together
have solid career goals
hungry for education
strong work ethic
respect
loves social media
great communication skills
perks & benefits …
tons of free education and a yearly education allowance
solid foundation to build your career
paid time off
fast-tracked program to become a stylist (6-9 months depending on level of skill)
incredible location with endless opportunities
opportunities to earn "wellness days"
high end products and color
"top 100" kerastase salon & goldwell titanium salon
Apply Online