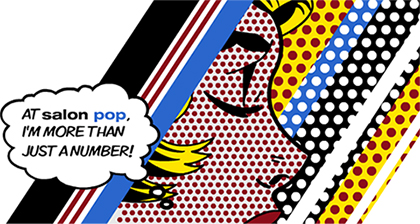 welcome to the world of salon pop , where everyone gets more than 15 minutes of fame. our mission is simple ••• to make your hair the best it has ever been. we do hair ••• only hair.
salon pop strives to guarantee every client the rewarding experience of being in a true professional's hands. we believe you deserve service exceeding your expectations. in our personalized atmosphere, you will not be treated like a number ••• we take great pleasure in your total satisfaction with our courtesy, care & attentiveness, and will make every effort necessary to achieve this.
salon pop loves to be different! we enjoy pushing the concept of what a salon can be, creating an environment that is uniquely ours. our bright and inviting space has been distinctly detailed with customized Pop Art touches, making for an exceptional and truly rare experience.
salon pop is open 7 days a week ••• our hours are: Monday and Wednesday 8-4, Tuesday 10-6, Thursday and Friday 8-8, Saturday and Sunday 9-5